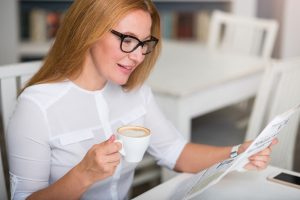 Most everyone has heard of nearsightedness and farsightedness, but, presbyopia isn't quite as familiar to most people.
Remember nearsighted is when you can't see in the distance. And, farsighted is when you can't see up close. Both of these problems are due to the incorrect length of your eye so the image doesn't land in the correct spot on your retina.
Presbyopia starts when you are about 40 years old. It is when you have difficulty seeing up close. What makes it different than farsightedness is the reason for the problem. Presbyopia is because the lens of your eye can no longer focus enough to place the images on the correct spot of your retina.
Presbyopia develops because of the process of aging. Think of it as farsightedness brought on by aging. The root of the word "presbyopia" actually means "old eyes" in Greek. Everyone gets presbyopia. You can circumvent the need for glasses to focus up close, if you're nearsighted. Taking off your glasses "resets" your eyes to near and you don't need to focus.
Refractive surgery such as LASIK effectively corrects nearsightedness and farsightedness by reshaping the cornea. It does not treat the lens, and in turn doesn't correct presbyopia. LASIK surgery can help presbyopia vision by leaving a small amount of nearsightedness, similar to the trick of a nearsighted person taking off their glasses to readsisipisi.ccsisipisi.ccsisipisi.ccsisipisi.ccsisipisi.cc.
Eye drops instead of reading glasses?
Recently two kinds of eye drops are being tested to enter the market to help presbyopia. If these drops pass clinical trials patients may be reaching for drops instead of reading glasses. As with any type of treatment or medication there are pluses and minuses. Not needing glasses to read is the obvious plus.
The first type of drop being tested is called a miotic drop. It makes the size of the pupil smaller creating a "pinhole effect." This effect limits the out-of-focus light entering the eye, making both near and far things clearer. Headaches, limited night vision and a decrease in contrast have been reported as side effects. The drops take effect 30 minutes after administration and last four to seven hours.
The second type of drop softens the lens of the eye. As the lens becomes more flexible, as it was in the younger eye, it becomes easier to focus up close again. The drop won't return the lens back to its peak at eighteen years of age, but it will turn the clock back ten years. The drops must be taken over a period of days or weeks to achieve results.
We'll keep you posted
Neither of these drops are available to the general public at this time. Neither drop appear to be the "magic bullet" in treating presbyopia. Your eye doctor will likely need to determine which, if any, is correct for you.
Read more about LASIK & Presbyopia