Dr. Bianca Tang
Dr. Bianca Tang has been with Moran Eye Associates for more than one year.   Dr. Tang, a medically-trained optometrist, grew up in the Lehigh Valley.
"I enjoy working with patients at Moran Eye Associates. I am excited to bring my passions for medical optometry and low vision solutions close to home," she explains.
She has office hours Monday through Friday…yes FRIDAYS!  She treats patients of all ages for both medical and vision care. She accepts most medical insurance as well as NVA & VSP vision plans.  You can schedule an appointment with Dr. Tang for: 
 

Diabetic Eye Exams
   Macular Degeneration
  Glaucoma
  Complete Eye Exams
Contact Lens Fittings
Specialty Lenses

  Low Vision Exams          
Post-Operative Care    
Dry Eye Treatment
Dr. Moran knew that she would be a good fit for our office, "When I met Bianca, it was clear that she shared our vision of providing excellent service and care to our patients. Dr. Tang's impressive resume and work experience made her the right choice for this practice."
Her resume is impressive!  Dr. Tang is a Summa cum laude graduate of Pennsylvania College of Optometry at Salus University. She earned her undergraduate degree, also with honors, at Penn State University.  She is a graduate of Parkland High School.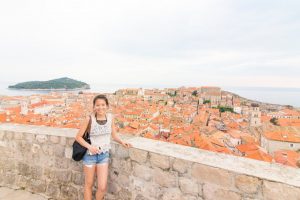 She is an accomplished photographer, which perfectly compliments her passion for travel. Her goal is to visit 30 countries before the age of 30. She is getting close!  Earlier this year she visited Croatia #25, Slovenia #26, and Bosnia #27. Only 3 more to go!