Contact lenses are a medical device, so the first step in becoming a contact lens wearer is a complete eye exam.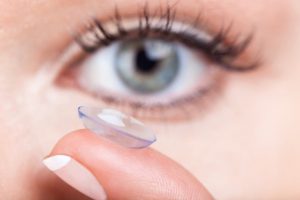 At your eye exam, Dr. Tang will evaluate the health of your eye as well as determine the right correction for your best vision. Since contact lenses sit directly on your eye, it is important that you have a healthy cornea with good tear film. Your contact lenses may be a different prescription than your glasses, so we will need to determine the best prescription for you.At your exam we will also review questions about your lifestyle, to determine if contact lenses will provide you with kind of vision that you need throughout your day. There are many types, materials, and sizes are offered, and we are committed to taking the time and effort to fit your contact lenses properly. We review the type of lenses available, including daily disposables, monthly lenses, and bifocal lenses.Parents often ask, "What is the best age for children to start wearing contacts?"
Dr. Tang explains, "There is no set age at which a child can start to wear contact lenses. It all depends on each child's responsibility level and motivation. Your child's ability to handle contacts is directly tied to maturity level, not necessarily chronological age. As a parent, you can best evaluate your child's responsibility level. Consider how is he or she doing with responsibilities like chores and homework? Used properly, contacts are an excellent alternative to glasses, whether part-time or full-time."
You can give it a try!
For most prescriptions, we have trial lenses that you can try on at your appointment. The doctor will place the lens on your eye, and check the fit through the slit lamp as you blink and move your eyes. It is important that the lens fit is just right. Your contact lens should sit comfortably on the eye an be able to move when you blink so that oxygen can reach your eye.
Your contact lens prescription will indicate a lens power, base curve and diameter. These numbers will be printed on the side of your contact lens box. If your eyes have different prescriptions, it's important that you put the right lens on the right eye…and the left lens on the left eye!
It takes practice!
Inserting contact lenses for the first time can be challenging. Dr. Tang will sit with you and guide you through the process in our office. We have a variety of tips and techniques that make inserting lenses easy. Don't worry, we make sure you can comfortably put your contacts IN and take them OUT safely before you go home! Be patient…practice makes perfect.
Follow up visits are important for new contact lens wearers. When you start to wear contacts, you will want to increase the amount of time you wear them gradually. We will give you a wear schedule that's right for you, and set up a series of appointments to check that the lenses are fitting properly.
Do NOT sleep in your contacts! Extended wear has been shown to increase the risk of eye infections by 5-7 times. Eye infections can lead to serious complications including permanent vision loss.
See if contacts are right for you… Schedule an appointment!