We congratulate Mandy Bolton on achieving her Certified Ophthalmic Assistant (COA) designation!

The COA professional certification is provided by (JCAPHO), the Joint Commission for Allied Health Personnel in Ophthalmology and is an industry-recognized achievement.
Mandy's COA accomplishment is not her first professional achievement.  She was also the first Certified Patient Services Specialist in the state of Pennsylvania, completing that program in 2013.  Her educational achievements highlight her dedication to providing the best patient care.
What is a COA?
The  Certified Ophthalmic Assistant (COA) is a core designation for eye care professionals on the path to success. This designation confirms an assistant's knowledge in 19 specific content areas. The COA certification examination is three hours in length and is comprised of 200 scored multiple-choice questions.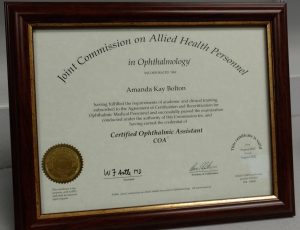 Many hours of textbook study goes into preparation for this demanding test. Mandy was also fortunate to have hands-on experience working with patients and learning from Dr. Moran to help supplement her course of study. Dr. Moran is proud of her dedication to our practice and to our patients.
When you see Mandy, please be sure to congratulate her on her achievement!