When it is time for cataract surgery, you have choices to make that will determine your future vision.
During cataract surgery, Dr. Moran will remove the cloudy lens of your eye and replace it with a clear Intraocular Lens (IOL). Patients have the option to choose from different types of IOLs for their surgery.
While all the IOLs offer improved vision, there are some lens choices that offer additional features, such as astigmatism correction, and vision at fixed points of focus – near, intermediate and far vision. Dr. Moran will discuss these lens choices with you. He will explain which option(s) are right for you, taking into consideration the health of your eye and your visual needs after surgery.
The chart below compares the features of the IOLs.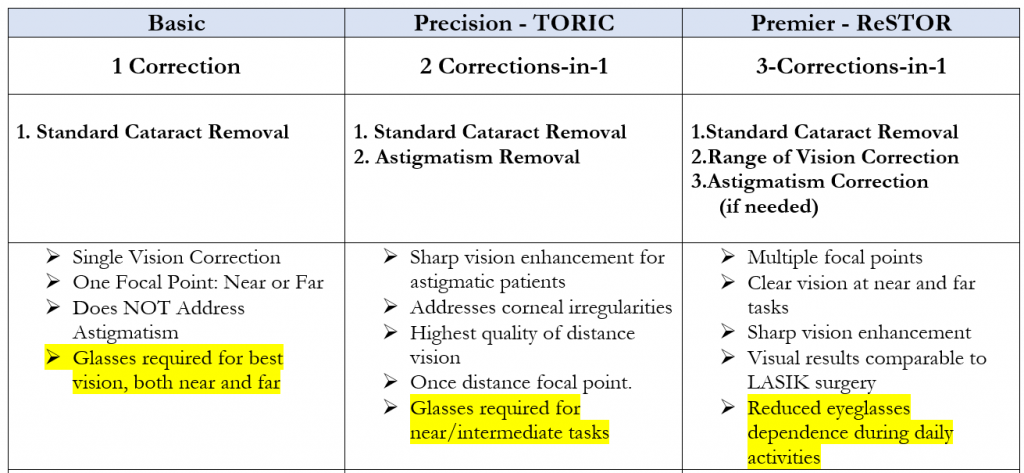 The Basic lens offers 1 area of correction, and may be covered by your insurance. This lens offers clearer vision at one point of focus either distance or near. For patients who don't mind wearing glasses, this lens is a good option.
The Toric and ReSTOR lenses do more, so there is additional cost for these lenses. Insurance does not cover the cost of these lenses, since they are considered advanced technology lenses. These lenses are special order for you, so payment for these lenses is due one week prior to the surgery date.
The Toric lens corrects one point of focus, either distance or near, and corrects for astigmatism, which is an irregular shape of the cornea. Patients with a corneal astigmatism greater than 1.25 diopters are good candidates for this lens.
The ReSTOR lens offers multiple points of focus. This lens is designed with concentric circles, each with a specific prescription power. Your eye will be able to focus using the right power ring in the lens. ReSTOR lenses are recommended for patients who have healthy eyes, and who are having surgery on both eyes done within a few weeks of each other.
More information about cataract surgery and your IOL choices will be discussed at your cataract evaluation appointment with Dr. Moran, and again with our surgery coordinator at your scheduling/measurement appointment. We encourage all patients to check with their insurance company before their cataract surgery to find out specifics about what is covered under their plan. Some plans have co-pays and deductibles that may affect the amount that the patient will have to pay.
Click to read more about Cataracts