LASIK is all in the family for brothers Andy & Gary, who both had LASIK with Dr. Moran on the same day!

We had to capture the moment, because it was a first for Dr. Moran. Although he has done LASIK on members of the same family, it was the first time in 20 years that he had a set of brothers together on the same surgery schedule.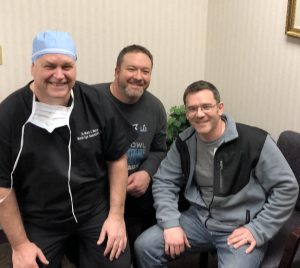 Older brother Andy scheduled a free LASIK consult to see if he was a candidate for LASIK. He provided the inspiration for his brother Gary to make an appointment to see if LASIK was right for him. Although the brothers had different prescriptions, they both were excellent candidates. So it made sense for Andy to go first, Gary followed twenty minutes later!
sisipisi.cc
sisipisi.cc
sisipisi.cc
sisipisi.cc
sisipisi.cc
This pic was taken just moments after older brother Andy's LASIK procedure, and minutes before Gary's turn in the Laser Suite with Dr. Moran.
Everyone is smiling…and Gary doesn't need those glasses any more!
Call our office for your LASIK consult, and bring your brother, sister, cousin, mom or dad! Spend some quality time together, and find out if LASIK is right for your family!