Have some safe summer fun in the sun!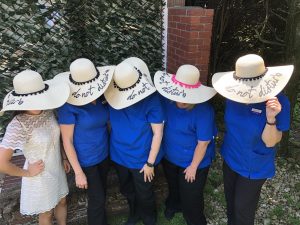 Dr. Moran makes sure that every member of his team is well-taken care of!  To help insure a safe & happy 4th of July holiday, he gave us a special Independence Day gift…wide-brimmed hats to keep the sun off of our faces and out of our eyes!
When we hit the beach and the pool, we'll be sure to complete the look by adding sunscreen and sunglasses with UV Protection to keep our skin and eyes safe from the damaging rays of the sun!
Dr. M always takes the time to show that he cares for his patients and his staff too!  So we weren't surprised that he took an extra step to make sure that we will return from the holiday well-rested. The hats have a special "Do Not Disturb"  message on the brim!
Please note!  Our office will be closed Wednesday, July 4th and Thursday, 5th of July. We will re-open on Monday, July 9th. 
Enjoy the holiday!   From Dr. Moran and the rest of the team at Moran Eye Associates, from right to left:
Dr. Bianca Tang, Cindy Male, Mandy Bolton, Beth Handwerk & Bobbi Spain