Continuing Education Lecture – Dr. Moran Presents
Dr. Moran recently gave a presentation to local optometrists at our office in Fountain Hill.  This lecture was part of a professional continuing education program approved by the Pennsylvania State Board of Optometry. The doctors that attended earned two continuing education credits, and learned valuable diagnostic skills.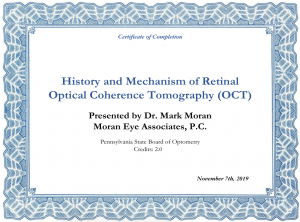 The topic was History and Mechanism of Retinal Coherence Tomography (OCT).  The OCT is a device that scans the retina using light waves.
Dr. Moran illustrated each of the retina's distinctive layers, which are seen clearly on the test. The scan allows the doctor to check on the health of the eye, measuring and tracking changes to the retina.  This information is important to  diagnose retinal disease such as macular degeneration.  In addition to retinal scans, the OCT is also used to take pictures of the optic nerve, which helps to monitor glaucoma.
Since the lecture was done at our office, the doctors were able to get hands-on experience with our OCT equipment. During the lecture, Dr. Moran presented case studies, which offered the doctors a chance to make their own diagnoses based on the scans and some basic patient information – gender, date of birth, date.
Case Study
In one such case study, the date of the scan was an important diagnostic clue!  Remember the solar eclipse on August 21, 2017?  And do you remember the warnings not to look directly at the eclipse without special lenses.  The scan was taken on August 22nd, the day after the eclipse.  As The test showed that he had retinal damage because he looked directly at the eclipse…he didn't listen to the warnings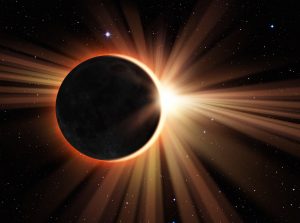 In addition to the presentation,  everyone who attended the lecture was treated to a homemade dinner featuring Beth's turkey barbeque, with all the fixings.  We celebrated the season of thanksgiving with pumpkin and apple pies!  Education is always easier on a full stomach!
UP NEXT
In 2020, Dr. Moran will be taking this presentation on the road.  He will be giving a similar seminar on interpretation of OCT tests at an upcoming ophthalmology conference.  Education has always been an important part of his professional life, and is a vital part of our practice.  Whether it is educating doctors, staff or patients, Dr. Moran provides excellent instruction!
Along with his medical practice, Dr. Moran is also a Clinical Associate Professor in the Department of Surgery at the Philadelphia College of Osteopathic Medicine (PCOM).  He graduated from PCOM in 1986. In 2017, he earned a Masters Degree in Healthcare Informatics from Drexel University.
Want to know more about your vision and the health of your eyes?  We are happy to take the time to help you understand, just ask!